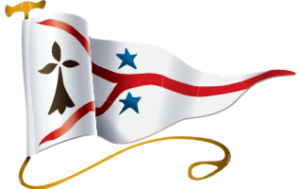 The 2020 Fife Regatta 
En Route to Scotland 
Bénodet, the Odet River, a privileged call 
May 15 to 17, 2020
Since the birth of yachting in France, the Odet River has been a remarkable centre for nautical activities.
The bay of Bénodet and its islands, the charm, tranquillity and security offered by the Odet River attract the yachtsmen of the region and beyond. Founded in 1884, the Yacht Club de l'Odet (Odet Yacht Club), initially known as the Nautical Club of Loctudy/ Ile-Tudy, is 137 years old.
The appeal of the Odet River is well known and appreciated by British yachtsmen who consider Bénodet as one of their favourite destinations in France. Each year, many sailboats cross the Channel calling at Bénodet, to the point where one of the moorings, near Sainte Marine harbour on the right bank of the Odet, is called the « anchorage of the English ».
The importance of Bénodet for British sailing was further developed by the Royal Ocean Racing Club (RORC) when it created the Plymouth-Bénodet cruising race in 1936 which was the first of this kind between England and Southern Brittany. It should be noted that this first offshore Anglo-French race was won by « Latifa » a, renowned Fife design sailboat. The same year the RORC also organized the first Falmouth–Clyde race.
The Yacht Club de l'Odet would be very pleased to welcome the Fife sailboats en route to Scotland.
If you are interested in calling in Bénodet, could you please fill in the form. We will then be in contact with you to organise your stay with us.